---
We recommend to add to this product
---
Machine works fine
Machine works fine, shipping fast, great customer support!
I am a happy customer!
I am a happy customer! Thank you Andrew for helping me make the right choice with this laser.
The support is very professional.
The support is very professional. They helped me assemble the machine. The machine is very cool.
TRUST ME!
THE BEST WEBSITE TO BUY A LASER MACHINE! TRUST ME!
The machine is working very very well
Received fast. They provided detailed manuals and software. The machine is working very very well
3W UV Laser Marking Machine
3W UV Laser Marking Machine
Versatility: 3W UV Laser marking can be used on many products in various industries, including aerospace, automotive, defense DOD, and medical and electronic components.
Maintenance Free: 3W UV laser marking doesn't require any consumables, no downtime associated with cleaning or repairs, and the engraving process is quick and simple.
Fast Processing: 3W UV lasers are better absorbed than other wavelengths and marking techniques by virtually all materials, requiring less power to produce a clear mark in one application with high-quality and high-contrast results.
Low Operation Cost: Compared with other fiber lasers, 3W UV light has a remarkably higher material absorption rate, which ensures one-pass application and low power consumption.
Damage-Free Marking: 3W UV lasers can mark highly reflective materials like gold, silver, and copper with minimal heat damage thanks to the high absorption rate of UV light, which protects the material surface from damage, and enables corrosion-resistant marking.
Quality: UV lasers create easy-to-read marks far superior to printed marks or labels. 3W UV laser ensures crisp, high-contrast permanent marking thanks to the small beam size.
Special Applications: During the laser marking process, the marking device does not come into direct contact with the product, allowing for clean operation with minimal contamination. 3W UV lasers are perfect for industries requiring sterile product processing.
Product Specification
| | |
| --- | --- |
| Laser Type | UV Laser Marking Machine |
| Working Area | 110*110/150*150/200*200/300*300 (mm) |
| Laser Power | 3W |
| Laser Wavelength | 355nm |
| Application | metal and non-metal |
| Marking Speed | 4000mm/second |
| Repeated Precision | ±0.003mm |
| Operating Voltage | 110V |
| Cooling Mode | Air Cooling |
| Supported Graphic Formats | AI, BMP, DST, DWG, DXF, DXP, LAS, PLT |
| Controlling Software | EZCAD |
| Optional Parts | Rotary Device, Lift Platform, Other Customized Automation |
| Warranty | 2 year |
| Package | Plywood |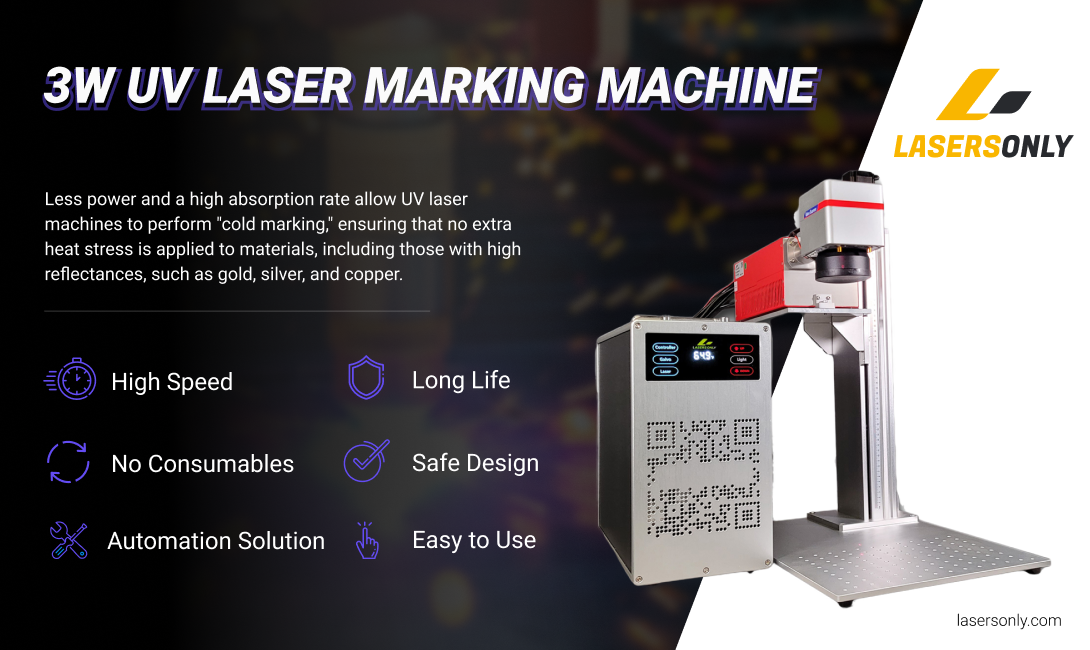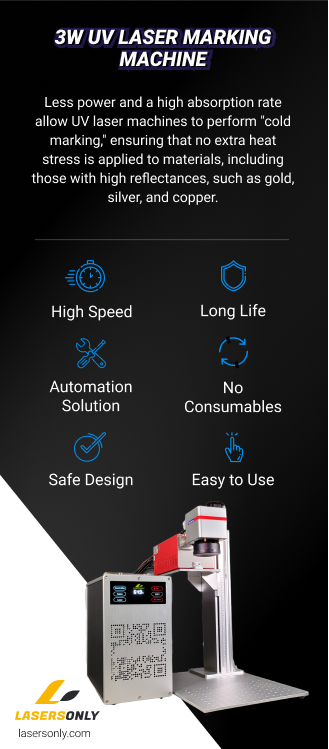 Laser Source: Technical Parameters
| | | |
| --- | --- | --- |
| Product Model | | Lark-355-3A |
| Wavelength | nm | 355 |
| Pulse Repetition Rate Range | kHz | 20 to 200 |
| Pulse Duration | kHZ | <18ns@40 |
| Average Power | kHZ | > 3W@40 |
| Average Power Stability | | RMS ≤ 3% @ 24hrs |
| Pulse-to-Pulse Stability | %rms | RMS ≤ 3% @ 40kHz |
| Spatial Mode | | TEM00 |
| Beam Divergence Full Angle | mrad | < 2 μrad |
| Beam Diameter | mm | 0.45±0.15mm |
| Beam Сircularity | % | >90 |
| Beam Quality | M2 | M2 ≤ 1.2 |
| Polarization Orientation | | Horizontal |
| Polarization Ratio | | 100:1 |
| Cooling | | Air-cooling |
| Operating Temperature | °C | 0~40 °C |
| Storage Temperature | °C | -15~50°C |
| Supply Voltage | V | DC 12V |
| Average Power Consumption | W | <180W |
| Three- Dimensions (WxDxH) | mm | 313 × 144× 126mm |
| Weight | kg | 6.8 kg |
Galvanometer: Technical Specification
| | |
| --- | --- |
| Manufacturer | Sino-Galvo Technology Ltd. |
| Marking Speed | 4000mm/s |
| Positioning Speed | 6000mm/s |
| Max Setting Time | 0.4 msec |
| Max Linearity | 99.9% |
| Max Repositioning Drift | 8 μrad |
| Max Long-term Drift (8 hr. Continuous Use) | 0.5 μrad |
| Max Gain Error | 8 μrad |
| Max Zero Drift | 8 μrad/°F (15 μrad/°C) |
| Max Tracking Error | 180 μsec |
| Proportional Drift | <40PPM/°C |
| Input Voltage | ±15V DC |
| Average Current | 2A |
| Lens Damage Threshold K9 Glass | 9.1 J/cm2 |
| Digital Signal Interface | XY2-100 |
| Peak Current | 15A |
| Operating Temperature | 32–113°F (0–45°C) |
| Position Signal Impedance | 10kΩ (±1%) |
| Position Signal Input Scaling Factor | 0.33 V/deg |
| Operating Temperature | 0°C - 45°C |
| Storage Temperature | 14–140°F (-10–60°C) |
| Laser Input Aperture | 10mm |
| Central Distance between Mirrors | 13.5mm |
| Silicone Film | 10 J/cm2 |
| Maximum Scanning Angle | ± 15 ° |
| Compatible Lens Size | M85 |
| DB25 Cable Length | 2.8 m |
| Dimensions (LxWxH) | 100 x 95 x 120mm |
| Weight | 850g |