Free Shipping
The customer support team was also very helpful when I had some questions about the setup process. And I love FREE shipping.
Highly recommend
I highly recommend this machine to anyone looking for a laser welder.
3-in-1 Laser Welding Cleaning Cutting Machine 1500W
3-in-1 Laser Welding Cleaning Cutting Machine 1500W
Environmentally Safe - 1500w laser cleaning uses a non-toxic cleaning method, making it an eco-friendly option that doesn't pollute or require hazardous cleaning agents.
Efficient Performance - The 1500watt fiber laser technology and non-contact cleaning method result in a fast cleaning process, saving time on pre and post-finishing operations. It also has minimal impact on the treated material.
High Precision Results - The 1500w laser source's power ensures consistent and stable beam delivery, resulting in high-quality cleaning and robust, smooth welding seams up to three to four times faster than traditional TIG or MIG welding.
Versatile Usage - This 1500w laser machine is suitable for various material processing needs across different industries such as aerospace, automotive, military & defense, power generation, nuclear facilities, and maintenance & repair facilities.
User-Friendly - This machine is designed for usability, with a compact portable case, integrated water chiller, long fiber optics cable, and ergonomic laser gun with interchangeable nozzles for cleaning and welding operations.
Maintenance-Free - The laser source has a long lifespan, and the cleaning process doesn't require any consumable products, making maintenance easy and inexpensive.
Intuitive Control - The smart control panel features preset parameters for different materials and thicknesses, and it's easy to switch between different operations, reducing the learning curve for users.
Product Specification
| | |
| --- | --- |
| Model No. | CW1500-CWCR |
| Laser Power | 1500W |
| Power Stability | ±1% |
| Laser Wavelength | 1080 ± 10 nm |
| Laser Mode | Continuous Wave |
| Laser Beam Quality | < 1.5 |
| Power Consumption | 4.5 KW |
| Welding Spot Diameter | 0.2-2.0mm |
| Power Consumption | 5.5KW |
| Power Supply | AC220V single phase |
| Fiber Optics Cable | 33 feet |
| Cooling Method | Integrated Water Cooling |
| Cooling Method | Independent Water Cooling |
| Dimensions | 9030*600*1200mm |
| Weight | 185KG |
| Working Environment | 5~35℃, 5%~75% |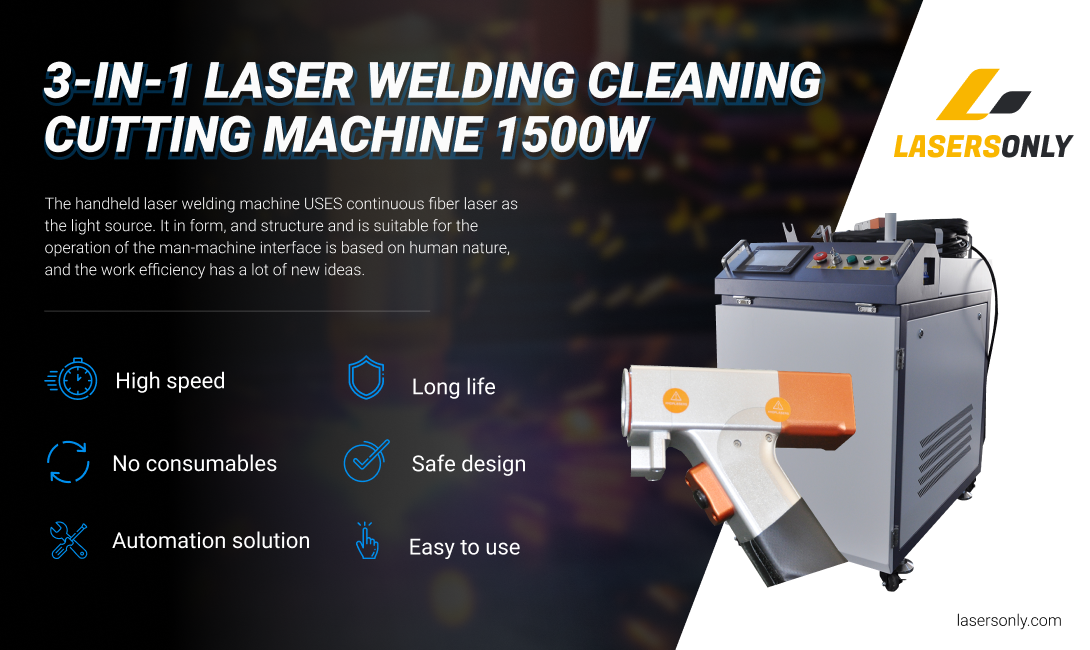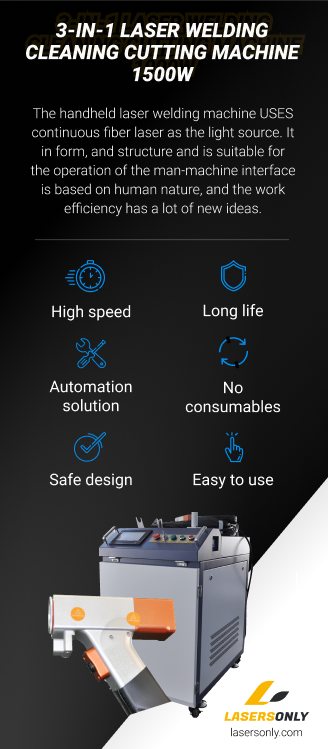 Laser Source Maxphotonics: Technical Parameters
| | | |
| --- | --- | --- |
| Brand | | Maxphotonics |
| Laser Model | | MFSC-1500X |
| Nominal Power | W | 1500W |
| Mode of Operation | | CW/Modulated |
| Polarization | | Random |
| Power Tunability | % | 10 to 100% |
| Wavelength | nm | 1080 ± 10 nm |
| Power Stability | | ±1 % |
| Laser Beam Quality, BPP | | ≤1.5 mm x mrad (50μm QBH) |
| Modulation Frequency | kHz | ≤20 kHz |
| Output Power Tunability | % | 10~100 |
| Emission Wavelength | nm | 1080±5 |
| Preview Red Light Power | μW | 150 μW |
| Modulation Frequency | Hz | 1~20,000 |
| Red Guide Laser Power | mW | 0.1~1 |
| Interface | | QBH (LOC) |
| Length | | 15m standard, other lengths optional |
| Diameter | μm | 50 (35) μm |
| Bending Radius | mm | 200 mm |
| Supply Voltage | | 220VAC (-15% to +10%) Single-phase |
| Operating Ambient Temperature | °C | 10~40 |
| Storage Temperature | ℃ | -10 to +60℃ |
| Storage Temperature | °C | -10~60 |
| Humidity | % | 10 to 85% |
| Cooling Method | | Water Cooling |
| Cooling Medium | | Distilled water/ Glycol Antifreeze |
| Dimension | mm | 482.6×800×193mm (W×D×H) |
| Weight | kg | 57(±3) kg |
Laser Cleaning, Welding And Cutting Head
| | |
| --- | --- |
| Brand | RuiDa |
| Fiber interface | QBH |
| Wavelength range | 1070±20um |
| Rated power | ≤2000W |
| Collimated focal length | 50mm |
| Focus focal length | 125mm/150mm |
| Focus adjustment range | -10mm~+10mm |
| Spot adjustment range | 0~5mm |
| Auxiliary air pressure | ≤1Mpa |
| Weight | 0.72Kg |