200W Fiber Laser Marking Machine Characteristics
200W Fiber Laser Marking Machine Characteristics
New Design. For this 200w fiber laser machine we created a new case with a modern touchscreen display to control all equipment functions, including buttons to start and stop the controller, the galvanometer, the laser, and the work area light and Z-Axis movement.
Advanced Protection. This 200w machine comes protected by shiny armor - a new sturdy aluminum case with a dazzling techno pattern, which we proudly made in the US. The box is made of a thick aluminum plate to keep the equipment safe. The grills are designed to provide adequate ventilation flow and protect electronics from dust and debris.
Convenient Light. The 6 inches in diameter circular LED light illuminates the entire work area most efficiently. There are different light types and light strength options to choose from. We devised a unique mechanism to rotate the light fixture, which could be turned away when not needed or turned back and secured in place with an automatic magnetic latch.
High Precision. Our 200W fiber laser comes with a high-precision Z-Axis. Our high-precision tower is operated by the square guide rails that keep the scanner perfectly aligned and provides smooth and precise movement.
Easy Operations. 200w JPT M7 series high-power pulsed fiber lasers utilize a master oscillator power amplifier (MOPA) technology and show excellent laser performance and high temporal pulse shaping controllability. Compared to the Q-switching technology, the pulse repetition frequency (PRF) and pulse width can be controlled independently in the MOPA configuration. By adjusting different combinations of the above parameters, the peak power of the laser can be well maintained, allowing the JPT laser to work on more materials and produce striking and astounding engravings in color on stainless and other polished metal surfaces. Higher power output has advantages, especially for high-speed marking and faster deep engraving.
EZCAD2/EZCAD 3 Software in English. EZCAD is a well-known and most popular laser and galvo control software.
FREE GIFT FOR YOU: You will get an EXTRA LENS F430 to cover a larger engraving area. We will ship F430 (300 x 300 mm) and F160 (110 x 110 mm) lenses with your fiber laser machine.
LIMITED TIME OFFER: Get 30% OFF Rotary Axis with a fiber laser machine purchase. Please, use discount code ROTARY at the checkout.
Product Components
| | |
| --- | --- |
| Laser Source | 200W JPT MOPA M7 |
| Galvanometer | High-Speed ZBTK with Silicon Mirrors |
| Control Board | Original BJJCZ DLC2-M4 |
| Power Supplies | MeanWell 5V, 15V, 48V |
| Software | EZCAD2 or EZCAD3 for Windows 64-bit OS 7 & 10 |
| Dual Red Dot Device | Easy focusing for 2 lens sizes |
| Z-Axis Control | Motorized |
| F-Theta Field Lens | F254 working area 175 x 175 mm Focal Length 289.9 mm |
| EXTRA Lens* | F430 working area 300 x 300 mm Focal Length 420 mm |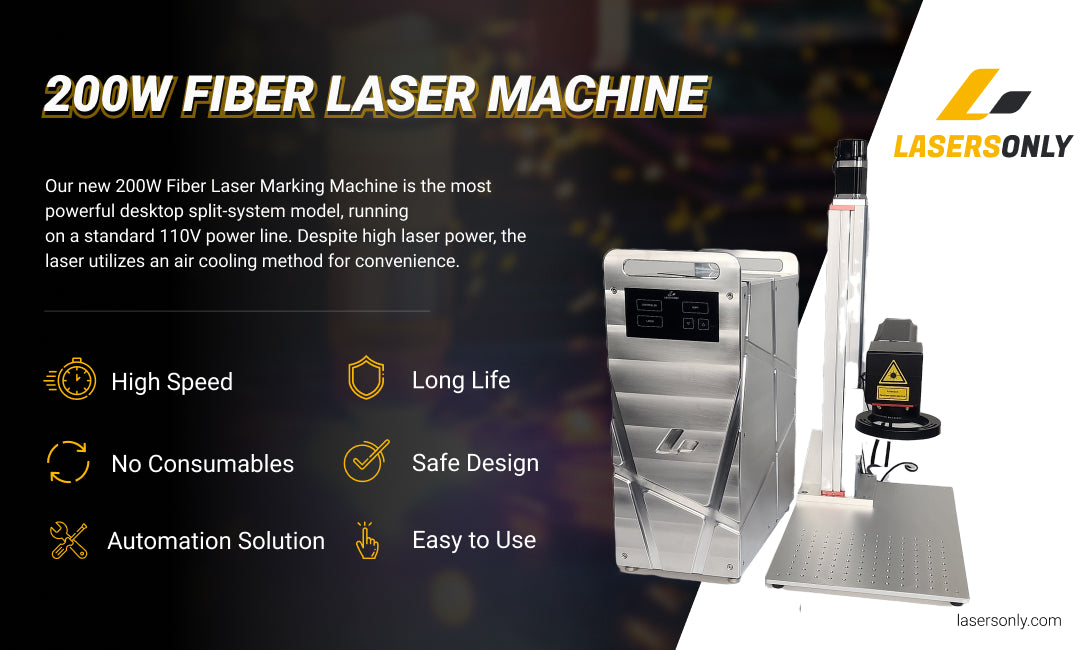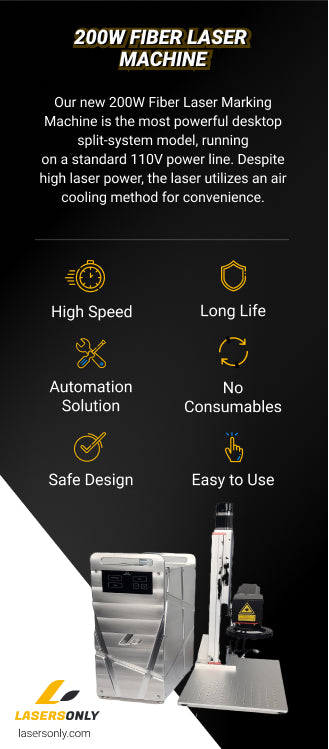 Laser Source: Technical Parameters
| | | |
| --- | --- | --- |
| Product Model | | YDFLP-200-M7-M-R |
| Beam Quality Factor | | <1.6 |
| Armored Cable Length | m | 5 |
| Nominal Average Output Power | W | >200 |
| Maximum Pulse Energy | mJ | 1.5 |
| Pulse Repetition Rate Range | kHz | 1 ~ 4000 |
| Pulse Duration | ns | 2 ~ 500 |
| Output Power Stability | % | <5 |
| Cooling Method | | Air Cooled |
| Supply DC Voltage (VDC) | V | 48 |
| Maximum Power Consumption | W | <800 |
| Environmental Supply Current | A | >16 |
| Central Emission Wavelength | nm | 1064 |
| Emission Bandwidth@3dB | nm | <20 |
| Polarization Orientation | | Random |
| Anti-high Reflection | | Yes |
| Output Beam Diameter | mm | 7±0.5 |
| Output Power Turning Range | % | 0 ~ 100 |
| Operation Temperature | °C | 0 ~ 40 |
| Storage Temperature | °C | -10 ~ 60 |
| Weight | kg | 24.8 |
| Dimension | mm | 430 × 351 × 133 |