2000W Fiber Laser Rust Removal Machine
2000W Fiber Laser Rust Removal Machine
Outstanding Cleaning Results. Unleash the power of the SUP controller and handheld scanner technology, producing laser beams up to 300mm wide, delivering exceptional and effective cleaning effects on various surfaces.
User-Friendly Operation. Enjoy a hassle-free cleaning process with our 2000W laser cleaning machine. Its quick setup and easy operation make it suitable for both experienced technicians and novices, reducing the learning curve.
Convenient and Versatile Design. Our 2000W laser cleaning machine is designed for maximum usability, featuring a compact design with a built-in water chiller and standard power requirements (single phase 220V), ensuring operation convenience across different settings and industries.
Maintenance-Free Solution. Benefit from a low-maintenance investment with our 2000W Fiber Laser, boasting a long-lasting laser source and no need for costly consumables, making it a cost-effective choice for your business.
Effortless Portability. Experience ease of use and reach with the 33 feet long fiber optics cable and rolling cabinet, allowing seamless transportation and accessibility during cleaning operations.
Eco-Friendly Cleaning. Experience a green cleaning solution with our 2000W Fiber Laser Rust Removing/Cleaning Machine, as it uses an environmentally-friendly laser method that doesn't harm the environment or require hazardous cleaning agents.
Versatile Applications. Explore the endless possibilities of laser cleaning technology across various material processing needs and industries, including aerospace, automotive, military & defense, power generation, nuclear facilities, and maintenance & repair facilities.
Product Specification
| | |
| --- | --- |
| Type | CW2000-FLC-SUP |
| Laser source | CW Fiber |
| Laser Power | 2000W |
| Fiber cable | 33 feet |
| Wavelength | 1080nm |
| Clean speed | ≤50M²/Hour |
| Beam width | Up to 300 mm |
| Scan speed | 0-7000mm/s |
| Cooling | Water Cooling |
| Voltage | Single Phase 220V |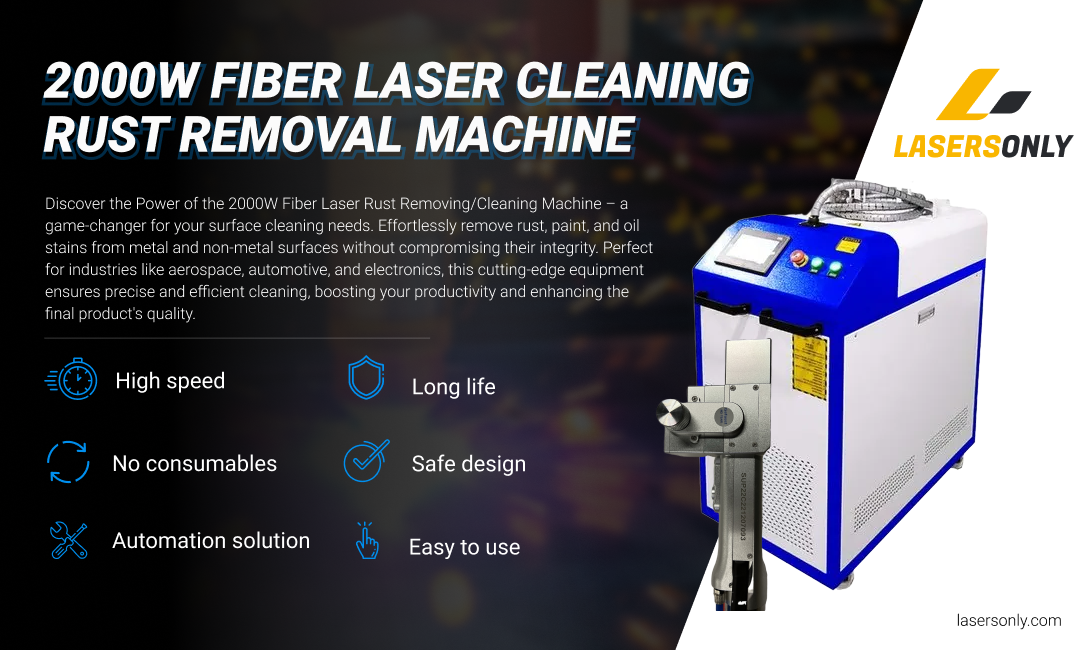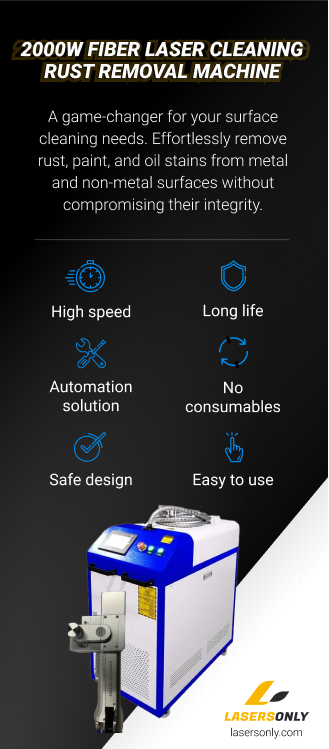 Laser Source: Technical Parameters
| | | |
| --- | --- | --- |
| Brand | | Raycus |
| Models | | RFL-C2000S-CE |
| Nominal Power | W | 2000 |
| Mode of Operation | | CW/Modulated |
| Polarization | | Random |
| Power Tunability | % | 10 to 100 |
| Wavelength | nm | 1080 ± 5 |
| Output Power Instability | % | ±1.5 |
| Laser Beam Quality | | M2 <1.5 |
| Modulation Frequency | kHz | 20 |
| Preview Red Light Power | mW | 0.1~1 |
| Interface | | QBH (LOC) |
| Output Fiber Length | m | 20 (customizable) |
| Output Fiber Core Diameter | μm | 50 (customizable) |
| Control Mode | | RS-232/AD/Ethernet |
| Bending Working Radius | mm | < 300 |
| Input power | VAC | 220±10%, Three Phase-four Wire Connect |
| Operating Temperature | °C | 10 to +40 |
| Storage Temperature | °C | -10 to +60 |
| Humidity | % | <70 |
| Cooling Method | | Water Cooling |
| Dimension | mm | 440*586*149 |
| Weight | kg | <28 |