1500W Fiber Laser
Cutting Machine 1513 MAX
Characteristics
1500W Fiber Laser
Cutting Machine 1513 MAX
Characteristics
We use MAXphotonic's new generation of Single Module high power CW Fiber Lasers ranging from 500W to 8000W, producing excellent beam quality that can satisfy any precision and speed requirements.
Laser Cutting Head by RayTools AG, a Swiss manufacturer of laser beam delivery systems. BT240S model constructed with fully enclosed beam path to decrease contamination risk and dual-water cooling circuit to collimation and focus lenses.
Yaskawa Servo Motors and Shimpo Servo Reducer from Japan offer higher performance, greater accuracy, and minimal maintenance.
CypCut Controller with CypOne Software is the most popular cost-effective laser cutting control software; it integrates motion control and height control unit in one.
Wireless Handheld Remote Control.
Gantry is made out of aviation-grade cast aluminum rigid but lightweight, tempered at high temperature to prevent deformation, and it's corrosion-resistant.
Imported dual rack & pinion guide rail for precision and accuracy.
Saw-tooth type worktable 1500mm x 1300 mm (5' x 4') and a set of ball bearings for easy material handling.
A centralized lubricating system ensuring smooth and efficient operation.
A&S Powerful Industrial Strength Water Cooling System.
Technical Parameters
| | |
| --- | --- |
| Model | FLC-1513 |
| Working Area | 1500 x 1300 mm |
| Fiber Laser Power | 1500W |
| Cooling Method | Water Cooling Protection System |
| Positioning Accuracy | ±0.01 mm |
| Max Acceleration | 1G |
| Compatible Software | CorelDraw / AutoCAD / Photoshop / AI |
| Machine Dimensions | 2750 x 2240 x 1970 mm |
| Control Cabinet Dimensions | 1150 x 1750 x 750 mm |
| Max Traveling Speed | 110 m/min |
| Driver System Power | X = 750W Y = 750W Z = 400W |
| Supported File Formats | LXD/.DXF/.PLT/.AI/.Gerber/.DWG |
| Gross Power | 17kW |
| Transmit System | Dual Rack & Pinion |
| Operating Temperature | 0 - 45°C |
| Operating Humidity | 5 – 95% |
| Gross Weight | 1200 kg |
| Option | Rotary Attachment |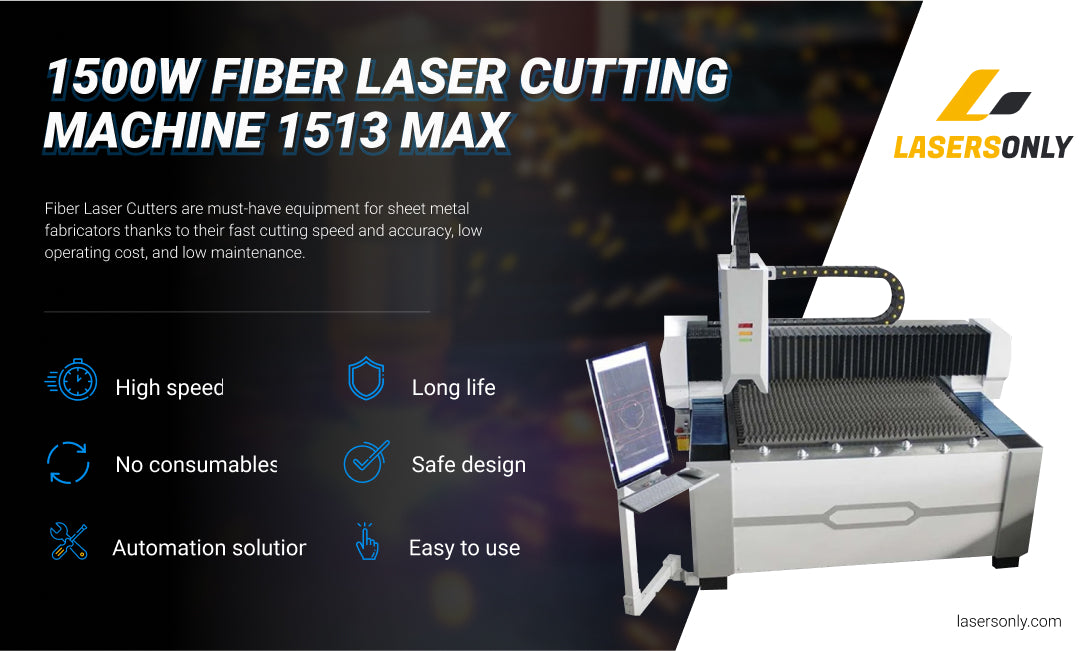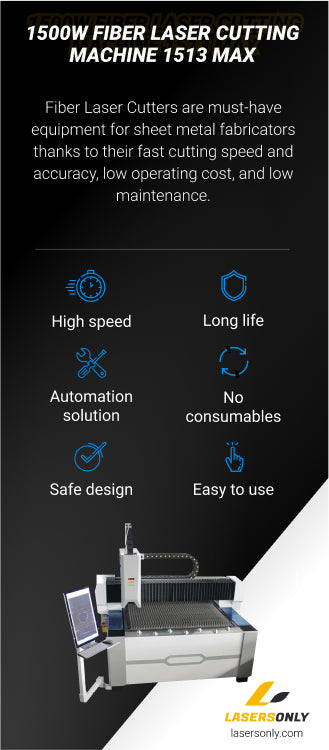 ---
You May Also Like:
You May Also Like:
Product & Service
Warranties
Product & Service
Warranties
Product Warranty INCLUDED
LASERS ONLY warrants its products and parts against defects in materials or workmanship for Two (2) years from the original date of receipt for fiber lasers and One (1) year for CO2 and other lasers types. This includes the power source. Focal lenses are warranted for 30 days. Read more about our warranty policy here.
EZCAD2 is a well-known and most popular laser and galvo control software. It works with LMC series laser controller for laser processing like marking, engraving, etching. After 15 years of verification by the market, It is now adopted by more than 4000 laser equipment integrators, more than 100,000 laser machines are with EZCAD2 annually.
Install Training INCLUDED
The installation of EZCAD2 is very easy. Users simply need to copy the EZCAD2 folder that is in the Install CD to the hard disk and then double click the Ezcad2.exe under the EZCAD2's directory to run the software. If you need any help with installation - just contact our customer support.
Financial Opportunities
Financial Opportunities
Use one of our reliable partners to finance your purchase. Learn more about available options and payment terms.
Customer Support
Our excellent customer support will help you to choose the right laser marking machine for your needs.
Call us at: 212-470-7896
We will be glad to help you!