10W UV Laser Machine Characteristics
10W UV Laser Machine Characteristics
Photoelectric Integration. The 10W UV machine combines both optical path and external driving circuit, ensuring seamless operation.
Anti-Interference. The integrated structure design provides 10W UV Laser machine with a strong ability to resist external interferences.
Fully Sealed Structure. Optimized to prevent external dust entry, safeguarding the laser's internal components.
Moisture-Proof. The design effectively isolates external water molecules, enhancing the machine's resistance to moisture.
Intracavity Self-Purification. This ensures a prolonged lifetime by keeping the internal cavity clean and efficient.
Compact Size. Enables easier placement and transportation.
Excellent Beam Quality. The output laser boasts great beam quality (M2 < 1.2) and spot characteristics.
Short Pulse Width. This 10W UV machine offers very short pulse width (<10ns@90KHZ), ideal for precise applications.
Product Components
| | |
| --- | --- |
| Laser Source | JPT SEAL-355-10S Water Cooled |
| Galvanometer | SINO-GALVO RC1001 |
| Control Board | Original BJJCZ LMCV4-DIGIT |
| Power Supplies | MeanWell 5V, 15V, 36V |
| Software | EZCAD2 or Lightburn (optional) |
| Dual Red Dot Device | Easy focusing for 2 lens sizes |
| Z-Axis Control | Motorized |
| F-Theta Field Lens | F160 working area 110 x 110 mm |
| Water Chiller | 10W with two temperature control modes |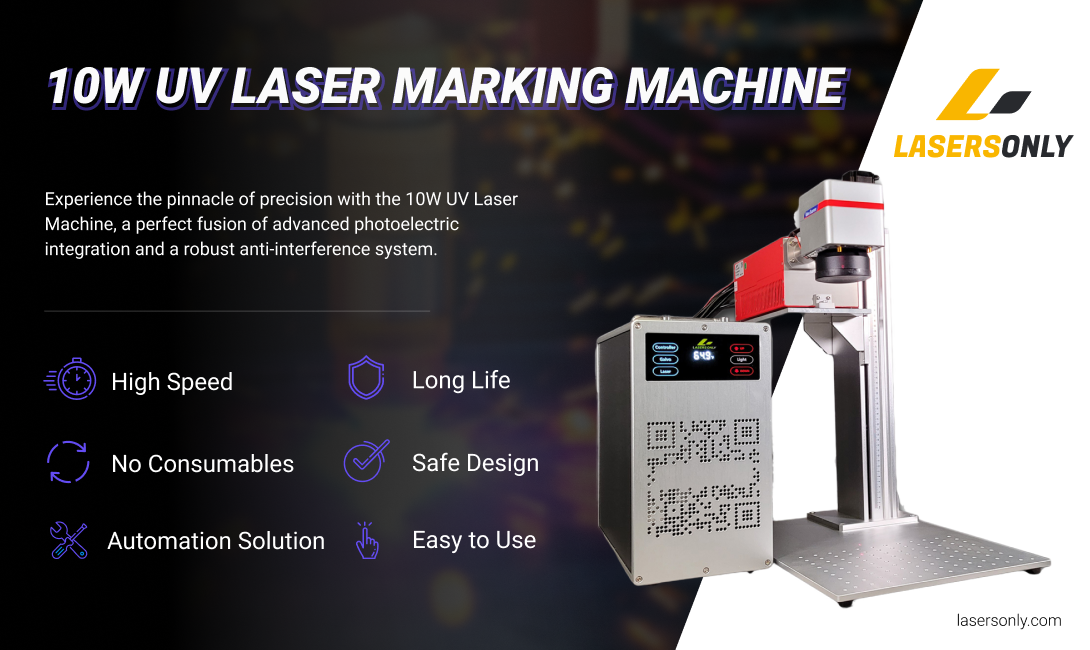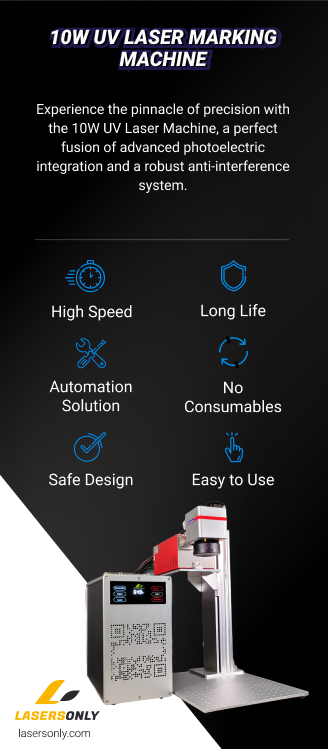 10W UV Laser Source: Technical Parameters
| | | |
| --- | --- | --- |
| Product Model | | SEAL-355-10S |
| Central Emission Wavelength | | 355nm |
| Average Power | kHz | >10W@60 |
| Pulse Duration | kHz | 18ns@60 |
| Pulse Repetition Rate Range | kHz | 40-300 |
| Spatial Mode | | TEM00 |
| Beam Quality | | M² ≤ 1.2 |
| Beam Сircularity | % | >90% |
| Beam Full Divergence Angle | mrad | ≤2mrad |
| Beam Diameter | mm | Non- expanding: 0.45±0.15mm |
| Polarization Ratio | | > 100:1 |
| Polarization Orientation | | Horizontal |
| Average Power Stability | | RMS ≤ 3% @ 24hrs |
| Pulse to Pulse Energy Stability | kHz | RMS ≤ 3% @60kHz |
| Operating Temperature | ℃ | 0~40℃ |
| Storage Temperature | | -15~50℃ |
| Cooling Method | | Water- cooled |
| Supply Voltage | V | DC 36V |
| Average Power Consumption | W | <350W |
| Three- Dimensions (W×D×H) | mm | 302 × 180 × 114mm |
| Weight | kg | 9.26kg |